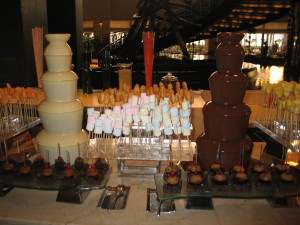 The saying that "a picture is worth a million words" applies no better   than to the food  industry. The way you present your dinner or desert greatly affects the satisfaction that people  take from the meal. Even before people take a bite of food, their minds already set  expectations for the meal they are about to have. Give your great tasting food the attention and  respect it deserves by creating a beautiful food presentation.
Being in the food industry, we cannot tell you how many guests get intoxicated by the meal simply by looking at the plate of display that we have created. The display enhances the quality and taste of the food because people eat with their eyes and bite with their mouths, which is why we here at Coco Chocolate Fountain Rental, spend a great deal of effort into creating the most beautiful desert presentations. Spending hours on preparing your food without the presenting your food in the proper manner will not  give your hard work in the kitchen the maximum benefit.
Tips on How to Create a Beautiful Food Presentation
Platter
Artful Cutting
Decoration
Place Setting
You don't need to spend much to drastically improve your food presentation. In fact with very little money you can have a professional looking presentation in no time. It may take a bigger effort to make a beautiful food presentation, but your friends and family will greatly appreciate and notice how well you have put together the meal. In fact because most hosts do not spend any additional time or effort on putting together a beautiful presentation, everyone will be enthusiastic about your effort.
Place Setting
The place setting creates an inviting environment for a quality meal. Because most people do not have place settings at most meals, they will greatly appreciate your effort. Many people may actually not notice exactly what you did, but certainly their emotions will tell them that they are happy and  satisfied.
There have been many occasions when one of our chef's or food designers changed up a food display and people will make a comment along the lines of "wow something is different, but I can't tell what" or "did you change something, whatever you did I like it." Make the small change by adding a place setting to all your dinner and dessert displays.

Platter
The platter in which you serve food greatly enhances the experience that guests have with your food. Instinctively they will feel you have spent a long time and put in much effort to create the meal. The platter is a great mood setter and helps create the intended ambiance of your meal. For example, if you are having special guests over, use ceramic plates and stainless steel utensils.
Artful Cutting
Spend time cutting your food properly. Having the properly sliced sizes of food will make guests be able to eat your food easier. In addition, artful cutting of food can give your food a professional chef look. Usually smaller pieces are better. Smaller pieces not only make eating food more enjoyable, but also place more value on each piece.
Decoration
Our favorite of all the tips, decorating your food and dessert display will greatly enhance your eating experience. Very little money goes along way with improving your display. Decoration includes table covers, napkins, plates and various items that make your food display appear more rich.
Final Thoughts
Presentation has the ability to drastically transform your food dishes. You spend so much time, money and effort to put together a quality meal, spend half the time making an appropriate presentation and even your left over lasagna will appear delectable.
There you have it, now you know what it takes to create a professional looking food and dessert presentation. Now go out and have the best party you have ever had.